Preferred Customer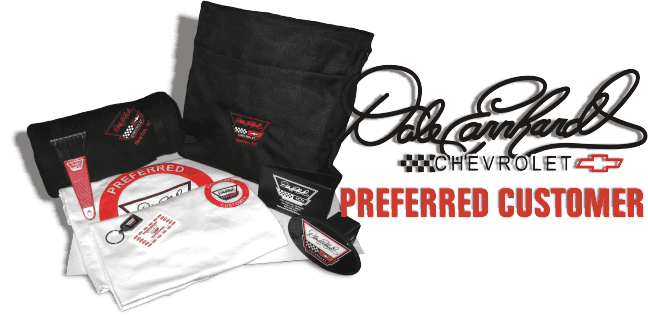 IMAGE MAY NOT BE REPRESENTATIVE OF ACTUAL PRODUCTS RECEIVED
PACKAGE CONTENTS CHANGE, CONTACT US FOR LATEST PRODUCTS
When you Purchase a Vehicle from Us You Become a Preferred Customer Instantly!
A Preferred Customer Receives:
EVERY 5TH OIL CHANGE FREE
FREE PICK UP & DELIVERY OF VEHICLE FOR ANY SERVICE WORK *
PREFERRED CUSTOMER SHIRT
DALE EARNHARDT CHEVROLET LOGO COOLER
FREE TIRE ROTATION
DALE EARNHARDT CHEVROLET TUMBLERS (2)
PRIORITY SERVICE RESERVATIONS
FREE LOANER VEHICLE**
FREE INSIDE & OUTSIDE WASHING OF VEHICLE WHEN SERVICED
FREE DALE EARNHARDT CHEVROLET ICE SCRAPER
FREE DALE EARNHARDT CHEVROLET KEY CHAIN
FREE DALE EARNHARDT CHEVROLET TRAILER HITCH COVER***
*Limited to the Catawba County Region
**Available if you vehicles needs to be kept overnight for any service work.
***Applicable if you are buying a Silverado, Tahoe, Suburban, Colorado or Avalanche.